What is the cost of safety? Although cost is an important consideration when buying an Epidural Positioning Device, it is not the only factor. Let's explore the variables of what to consider before making this important healthcare investment.
Who needs to use the EPD?
Specifically designed for use in operating rooms, labor and delivery suites, pain management centers, outpatient surgical centers and anywhere epidural procedures are performed, the Epidural Positioning Device offers secure positioning assistance during epidural procedures and other central anesthetic techniques effectively reducing patient risk while increasing patient safety. It also improves safe patient handling when positioning obstetrics, obese patients, and also during Thoracentesis procedures. While small healthcare centers in rural communities see minimal patients with epidural needs, larger facilities with multiple operating rooms and an entire maternity ward may warrant the need to purchase several EPD units.
Should you choose manual or electric?
Dollar-wise, the cheapest option is to utilize a nurse or medical assistant to position the patient. No expensive equipment is involved, and it can be done in a relatively short amount of time. However, is this option really the cheapest? Consider the increased potential risk of musculoskeletal injuries to nurses and the true cost of lost time and money due to injuries that are preventable.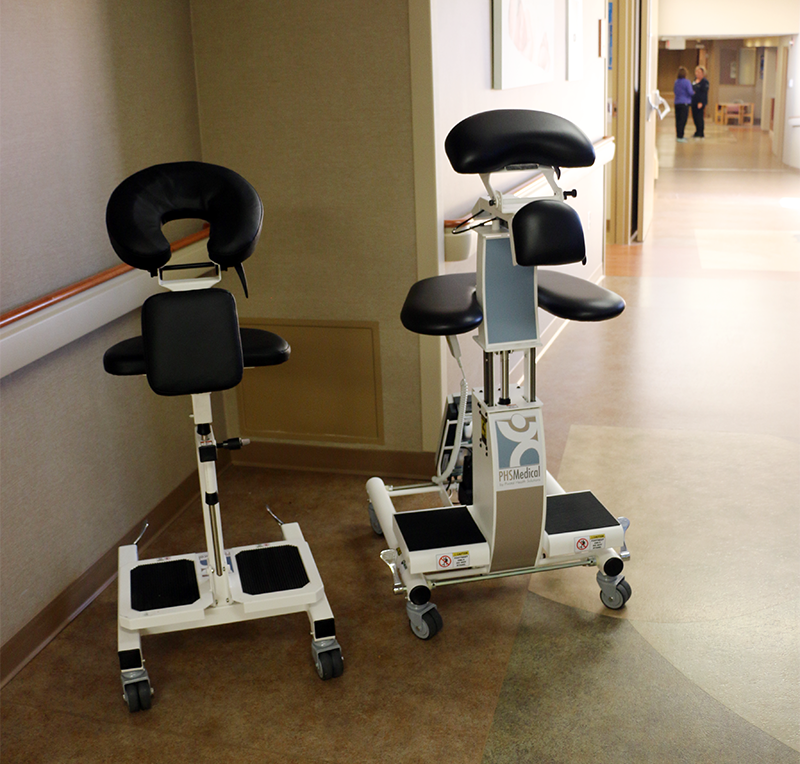 Photo by PHS Medical
Manual EPD
While more expensive than utilizing a nurse, medical assistant, or a pillow for patient positioning in the short term, the manual epidural positioning device could be a longer-term cost saver.
There are several advantages to choosing a manual EPD unit including:
A strong load capacity of 600 lbs. for use with bariatric patients

An Epidural Positioning Device and Labor Delivery Stand for maximum versatility including an adjustable mount with a built-in clamp for use with an OR table.

Cervical, thoracic and lumbar flexion that correctly and comfortably positions the patient in a safe and stable position

A manually adjustable headrest, footrest, and armrest for optimal positioning and patient comfort.

A durable, white powder coat base that is easy to clean and sanitize

Sani-Cover fitted disposable face rest covers for patient protection

An affordable option for patient safety

Photo by PHS Medical
Electric EPD
With the electric Epidural Positioning Device, patient positioning is conveniently done through automatic movements via a hand control. Just as the manual EPD has benefits to consider, here are a few for the electric EPD:
Photo by PHS Medical

Electronic controls adjust to the correct height and foot position for each patient

An easy mechanical lock and release system allows quick and effortless chest, arm and head adjustments

It's intuitive to use and easy to set up, clean, and move between rooms.

Convenient, disposable face rest covers make for quick and sanitary changeovers between patients.

A single foot pedal easily locks or unlocks all four casters quickly and effortlessly.

The battery charges fully in six hours and lasts between 40 to 100 cycles (based on load).

a 600 lb. load capacity lends itself to serving bariatric or heavily sedated patients
What is the cost of safety?
It's time to rethink patient safety. Improper patient positioning during epidural anesthesia is the number one cause of complications in the operating room. Injuries to medical staff, including back injuries in particular, are more common than injuries suffered in the construction industry. Every year, hospitals lose millions of dollars due to injuries to staff that could have been prevented. Additionally, millions of dollars are lost due to lawsuits by patients over improper patient positioning.
In terms of patient and staff safety, the question becomes: Would you be willing to invest a minimal amount in an EPD to make procedures safer, more efficient and more comfortable for patients and staff while potentially saving the hospital a substantial sum of money by avoiding preventable risks and potential injury?
Summary
The Epidural Positioning Device, patented in 2001, sets the standard for patient safety and reducing risk to staff by providing a revolutionary alternative for assisting you in positioning patients safely and comfortably during epidural procedures. Investing in an Epidural Positioning Device can help reduce inefficiencies in your practice putting patient safety as a top priority.
This blog was curated from a Meditek article entitled, How Much Does An Epidural Positioning Device Cost? Factors and Considerations for EPDs.