To avoid falling while ascending or descending stairs after an injury, it is important to learn the correct techniques for negotiating steps. Using stairs after hip or knee replacement surgery can seem like a daunting task since the last thing you want to do is re-injure yourself. Fortunately, with some expert training and a little bit of practice, you can learn to negotiate stairs safely and with confidence.
Eric Bjorkman, MPT, CO and Clinical Director/Owner of FYZICAL Therapy & Balance Center in Lincoln, NE gave his professional insight on the use of PHS Medical aluminum staircases in his practice. "Aluminum is sturdier than the wooden staircase we were using, yet it is still light enough to move within our clinic," explained Bjorkman.

His favorite features of the Pass-Thru Aluminum Staircase included "various size steps because different sizes help with the retraining of patients and fits within our small clinic space. The pass thru staircase allows patients to feel successful with stairs and independence, and the design allows for two patients to work at the same time if needed."
In his practice at FYZICAL Therapy & Balance Centers Bjorkman uses the staircase for stair training as well as strengthening. "Balance is a main focus for us, so we have an SOS system over the stairs which allows faster progression, and the walkthrough allows real life experience for patients."
"Patients enjoy working with the stairs and the real life application. Multiple step heights allow for better matching of home environments. In addition, staircases used in rehabilitation allow patients to take the worry out of attempting these stairs" added Bjorkman.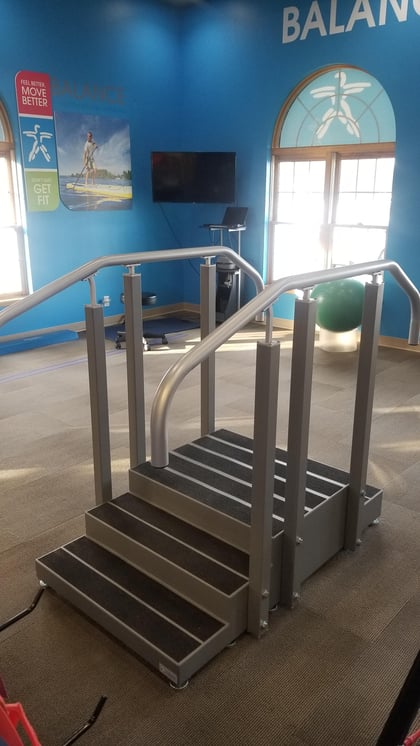 Photo courtesy of FYZICAL Therapy & Balance Center, Lincoln, NE
"Great product, well built, great service. We are thrilled with our staircase. FYZICAL Therapy & Balance Center - Lincoln 17th & South would recommend PHS medical and the staff we worked with. This staircase product is great!"
Eric Bjorkman, Clinical Director & Owner
Topics