PHS Medical's patented Epidural Positioning Device and Electric Epidural Positioning Device feature unique torso positioning for proper cervical alignment to position patients safely and comfortably during epidural procedures.
To better understand the EPD and E-EPD, we've outlined the main similarities and differences between them.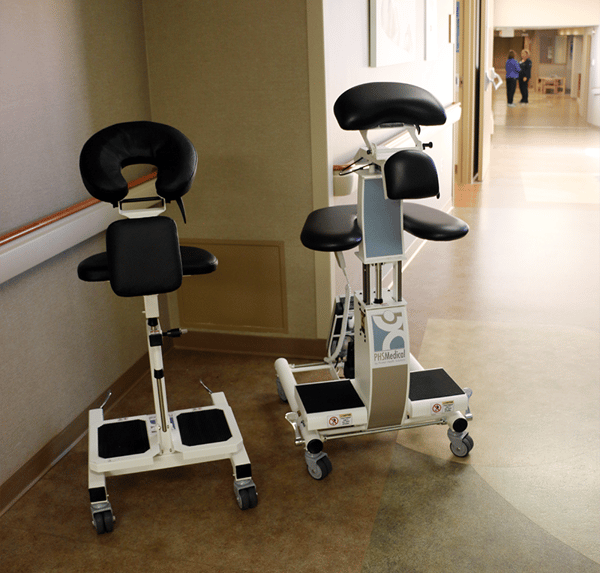 The EPD (left) and E-EPD (right) can easily be moved from room to room for fast, effective epidural placements.
Similarities
Correct Positioning
Both the EPD and E-EPD are designed to encourage cervical, thoracic and lumbar flexion while maintaining a solid and stable position. This reduces safety and positing concerns and helps the anesthesiologists perform a successful block.
Supports Various Patient Sizes
The height range of both devices is 50" - 60" to accommodate for different sized tables/beds and patients.
Patients of various sizes can be supported by the EPD and E-EPD. It can be used with patients up to 600 lbs.
Where It's Used
They are both predominantly used in labor & delivery suites and surgical departments, but they're also beneficial in pain management clinics. Anywhere epidural or spinal anesthesia is administered while the patient is seated, the EPD or E-EPD can be of use. Some hospitals have been using them for thoracentesis as well.
Easy to Move & Lock
Both the EPD and E-EPD have a locking caster system that makes it easy to move and easy to lock.
Differences
Adjustments
The main difference between the EPD and E-EPD is how you adjust them. An electronic hand control adjusts the E-EPD to the correct height and foot position for each patient and easy mechanical lock and release systems adjust the chest, arm and head pieces. On the EPD, manual controls adjust the height, foot, chest, arm and head supports.
Size of Device
- Weight: 54 lbs.

- Dimensions: 20.5" W X 30" D

- Weight: 130 lbs.

-Dimensions: 28" W X 29" D
Support Pieces
The chest piece on the EPD is slightly larger than the E-EPD's chest piece. The head rests and arm rests are also different sizes and shapes on each device.
Operating Requirements
The E-EPD comes with 2 rechargeable batteries that fully charge in about 6 hours and last between 40 to 100* cycles (*Based on Load). The EPD does not require any batteries to operate.
Check out this related blog: 8 Frequently Asked Questions about the EPD & E-EPD
Topics